Baby Spill Protection For Your Family Finances
By
Contributor
• Sep 5th, 2011 • Category:
Budget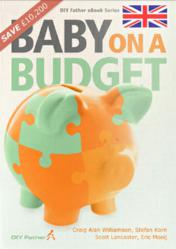 Salisbury, UK (PRWEB UK) 16 June 2011
For most new parents, it isn't just their best clothes that are under threat from baby dribble ? their finances are also at serious risk of irreparable damage. According to the LV= annual survey, raising a child until age 18 can cost over ?160,000, with baby's first year costing upwards of ?10,000.
The new must-have eBook by DIY Father, Baby on a Budget, combines the wisdom of fathers around the world using humor and useful tips to help new parents to save over ?10,000, so they can enjoy their new life with their new baby without breaking the bank.
"Congratulations you're a new dad! Now you have one new and rather large expense that will be hanging around for the next 20 years or so. And if you are like most new dads, the one question racing around your mind is … how am I going to pay for it all?" says DIY Father Founder Scott Lancaster.
The Baby on a Budget team has done all the hard work and research to help families save their hard-earned cash and avoid unnecessary expenses when buying things for their baby. The book covers everything from tips on how to save on baby gear, toys and clothes, food and nutrition as well as the big expense – childcare.
Three quick and easy budgeting tips from DIY Father to get started on budgeting for the family:
1.Make it a priority- before creating a budget for baby purchases sit down to determine what is important to you and your partner and make sure you are on the same page. Divide purchases into ?must haves? and ?nice to haves? – this way you will avoid many arguments over what you should or shouldn?t buy.
2.Avoid unnecessary purchases – if you are stuck for cash don?t buy items like newborn baby shoes ? they are a fashion item only. A newborn baby does not need shoes (in fact many people believe shoes are not good for them).
3.Four is more than enough – the DIY Father rule of thumb for baby clothes: one on your baby, one in the wash, and two in the drawer.
To help keep costs down, Baby on a Budget is available as an eBook for 4.95. For more information, or to schedule an interview, please contact Craig Alan Williamson at craig(at)diyfather(dot)com or 07801 479429.
About the Authors
Craig Alan Williamson lives in the south of England with his son, Henry (2008), his daughter, Harper (2010) and his wife, Dawn (timeless). When Craig is not being a dad or playing with gadgets he is generally writing about being a dad or playing with gadgets. http://www.CraigAlanWilliamson.com
Scott Lancaster is the founder of DIYFather.com. He is the father of baby girl Pyper and is married to Renee, who gave birth to Pyper in July 2007. After discovering how little parenting information was available for fathers, Scott approached the other two directors, who helped him build DIYFather.com. When not involved in DIY Father, Scott looks after Pyper full time and also helps Renee with her business. Scott has an Applied Science degree majoring in Agriculture and comes from a farming background. He is also a co-author of the bestselling books Call Me Dad and Being a Great Dad for Dummies.
Stefan Korn runs a private incubator for online start-ups called "WebFund". He is also a passionate dad and entrepreneur with a social conscience. His partner Raquel gave birth to their son Noah in May 2007 and the experience of becoming a father as well as the challenges of looking after Noah have prompted him to come on board DIYFather.com to help make a difference in the parenting space. Stefan has a PhD in Artificial Intelligence and an MBA in International Business. He is also a co-author of the bestselling books Call Me Dad and Being a Great Dad for Dummies.
About DIY FATHER
DIYFather is a social enterprise promoting active fatherhood through online and offline products and services. DIYFather?s main vehicle is http://www.diyfather.com, an interactive website for dads providing dad-friendly information in a convenient format. DIYFather delivers positive parenting courses and resources to dads in all markets it operates. The company was brought into this world by Wellington-based dads Scott Lancaster, Eric Mooij and Stefan Korn who recognised the need for social innovation in the fathering space. Now in its fourth year of operation, DIYFather.com has become one of the world?s leading websites for involved dads.
###
Contributor is
Email this author | All posts by Contributor